Top Luxury Wedding Venues in Marrakech
Top Luxury Wedding Venues in Marrakech: Known as the Red City, Marrakech is an alluring and magical destination venue for both weddings and events. At the foot of the Atlas Mountains and desert, the Moroccan city offers rich landscapes with breathtaking views. Rose farms and olive groves are in abundance, with a sunny and dry climate all year round. With just a three hour flight from London and a new International airport being built, it's easy to see why it's becoming an even more popular luxury wedding destination.
Marrakech has been a favourite destination for the celebrities and well-known names for many years, from rock stars to fashion designers being tempted by the majestical charms of Marrakech, its unassuming nature and a chance to enjoy some relaxed luxury with the paparazzi intrusion. It's the perfect location for a high-profile wedding or event.
There is so much choice if you're looking for a luxury wedding destination, from stunning Palaces, Romantic gardens, traditional Riads, 5-star hotels or a candlelit celebration in the desert. It's also perfect for a destination wedding over a number of days, and to wow your guests with a number of different venues and experiences. If you're looking for a dream luxury destination wedding, a wonderful climate, amazing experience for you and your guests and a real wow factor, Marrakech is a fabulous choice. Here are just a few of my favourite venues in the beautiful city of Marrakech.
La Mamounia
Poppy Delevingne chose the stunning La Mamounia for her second wedding celebration. It is somewhat of a legendary venue in Marrakech, situated on the edge of the walls of the old city. It has been a favourite destination for heads of state, royals and celebrities for many years.
The hotel offers a luxurious spa, cuisine by two Michelin-starred chefs and stunning grounds. For larger weddings, Le Grand Salon can accommodate up to 300 guests. But there is so much choice, with the Tente Tent on the top floor of the Le Marocain restaurant, ceremonies by the pool or in the beautiful gardens.
Kasbah Tamadot
Owned by Sir Richard Branson, Kasbah Tamadot is a spectacular 28 room and suite property situated in the Atlas Mountains, just outside of Marrakech. The hotel has breathtaking views, landscaped gardens, a spa and all the luxury you would expect. It is a wonderful location for an intimate smaller wedding, or a more lavish celebration tucked away in the privacy of the mountains.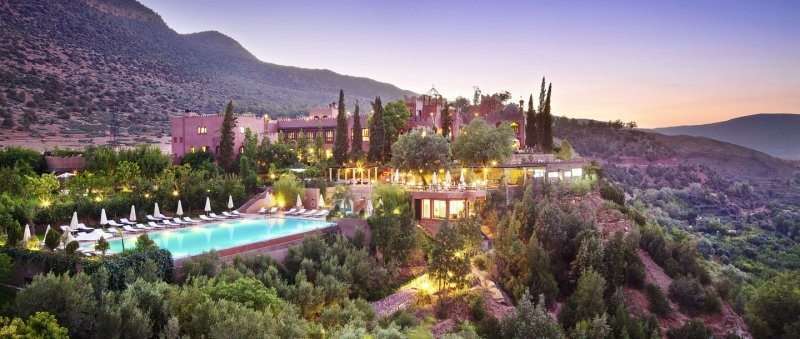 Palais Namaskar
Palais Namaskar is a unique and truly special venue. The property has 41 villas and suites, so all guests are treated to true luxury, surrounded by lakes and the most enchanting views. With a blend of old Moroccan décor and more modern details, it's a perfect balance for those seeking modern luxury with the charms of Marrakech. The hotel opened in 2012 but won awards shortly after and it's easy to see why. A stunning and unforgettable venue.
Royal Mansour
A fairy tale setting, the Royal Mansour offers the authenticity of a Moroccan Royal Palace in the most opulent and exquisite of settings. Commissioned by King Mohammed VI himself, the Royal Mansour is known as the gold standard of hotels in Marrakech, and it's easy to see why. The hotel offers complete privacy, perfect for those wanting something more discreet, with 53 Riads spread across four hectares of gardens. The Grand Riad offers a number of different settings perfect for a private wedding ceremony, and also a private garden and roof terrace pool.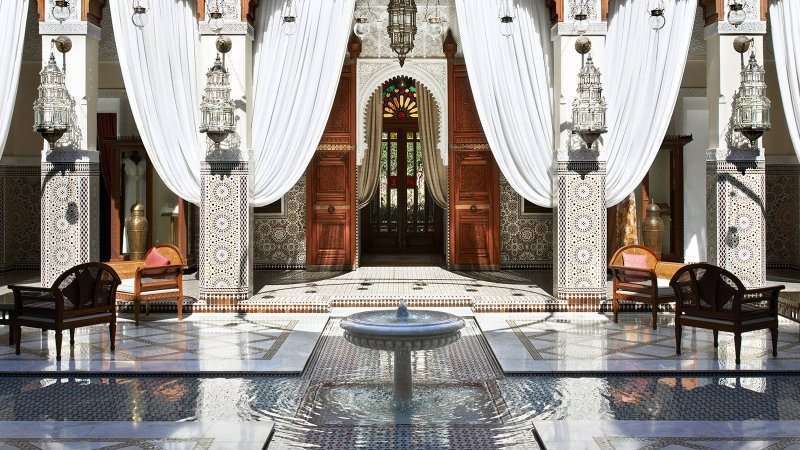 Amanjena
Amanjena was the setting for David Beckham's 40th birthday celebrations and it's easy to see why. The tranquil yet stunning resort is situated within easy reach of central Marrakech and offers a calm oasis, dotted with date palms and olive trees. 32 Pavilions and seven Maisons offer guests absolute luxury with traditional Moroccan charm. The Caidal tent offers a breathtaking setting for a wedding, with a candlelit pool and expensive olive groves. A truly beautiful setting for a luxury wedding in Marrakech.
By Aimee Dunne Luxury Destination Wedding Planner
Aimee Dunne is a trusted member of 5 Star Wedding Directory. Visit Aimee Dunne's Profile